Ikejime Kit For All Fish Types
Regular price
Sale price
$35.95 USD
Unit price
per
Sale
Sold out
🚚 2-Day PRIME Shipping*
⭐ Field Tested Fishing Gear
💰 30-Day Money-Back Guarantee
What Makes Fish Taste Great?
Without question, ikejime produces the best-tasting fish with 4 simple steps.
A painless spiking of the fish's brain

Cutting the gills to bleed the fish

Using a special wire to remove the fish's nerves

Cooling the fish down using an ice slurry
Finally, YOU can do the same method used on the most expensive sushi-grade tunas on the fish you catch.
We had one customer try it for the first time on his 80-pound bluefin tuna.
He said it was "excellent and easy to use."
On his first try!
Even if you're not targeting tuna, ikejime works with all fish,
Everything from mackerel caught on the pier,
To reef fish speared while diving,
To monster, groupers caught down in Baja,
To the icy lakes of the mid-west,
If you plan to eat it, ikejime will make it taste better.
Plump, Juicy Fact #1: It's one thing to catch a fish
It's another thing to prepare it so that it tastes good.
Because you've prepared your fish one way doesn't mean it's the right way.
But it's not your fault!
Most of us hadn't heard of ikejime until it became popular in culinary circles. It's still not discussed in fishing circles that often (although that's changing).
Why do chefs demand fish that have been ikejimed?
Respected seafood chefs demand ikejime fish. Those burn holes in their wallet for a great seafood meal can taste the difference.
By using our ikejime kit, you will have the same quality and taste at home with your fish.
Plump, Juicy Fact #2: If you paid to catch fish, you're already invested in making it taste great.
Why spend money on food if you let it spoil?
Letting the fish suffocate pumps stress hormones through the meat — yuck.

Not bleeding immediately causes blood to saturate the meat. Thus harboring nasty bacteria — double yuck.

Not running a wire down the spine lets the dead fish fire its nerves, breaking down the tissue — triple yuck.

Failing to get the fish in an ice slurry means the fish is only good for cat food — meow.
We developed this Ikejime Kit in Japan — the heart of extreme fishing and eating. We made our spike with an ergonomic handle to feel good after countless fish because we know you catch a lot. Plus, it's quicker and easier than clubbing the fish to death.
Our high-quality wire removes those pesky favor-sucking nerve cells. Please be delicate and don't force the wire down the spine. Delicate flesh requires the delicate handling of the tool.
You've spent money catching fish; you might as well do it right while preserving your meat.
Size

Saltwater Fish

Shape memory stainless steel wire can be compactly stored. 


Ideal for yellowtail, halibut, small tuna, white seabass, flounder, rockfish, opaleye, and large freshwater fish. 


Wire diameter: 1.2mm
Wire length: 800mm
Spike length: 90mm
F.A.Q

Will this work on snakehead due to their bony skull?

Yes, it should work fine. If you find that the skull is too dense, try the alternative method of using a knife to brain the fish, then cutting the tail to expose the spinal column. Run the ikejime wire from the back end towards the head for the same effect. Tight lines!

Will this work for trout 9-15 inches?

Yes, this ikejime kit will work for trout in that size range. There is also a Pocket Ikejime option sold on Amazon with a carabiner that works well for smaller fish.

How do I get Prime shipping?

If you have an Amazon Prime account, you get Prime shipping.
What Is The Ike Jime Technique?

Ikejime is the process of humanely killing a fish in the quickest amount of time while preserving the highest quality of the meat.

1. This is done by using a spike to dispatch the fish with the least amount of pain.

2. The fish is bled by cutting the gills to remove any harsh metallic taste from the flesh.

3. A wire is then inserted to stop the firing of nerve impulses to prevent the meat from spoiling quickly.

4. The fish is thrown into an ice slurry to bring the temperature down of the meat.
Share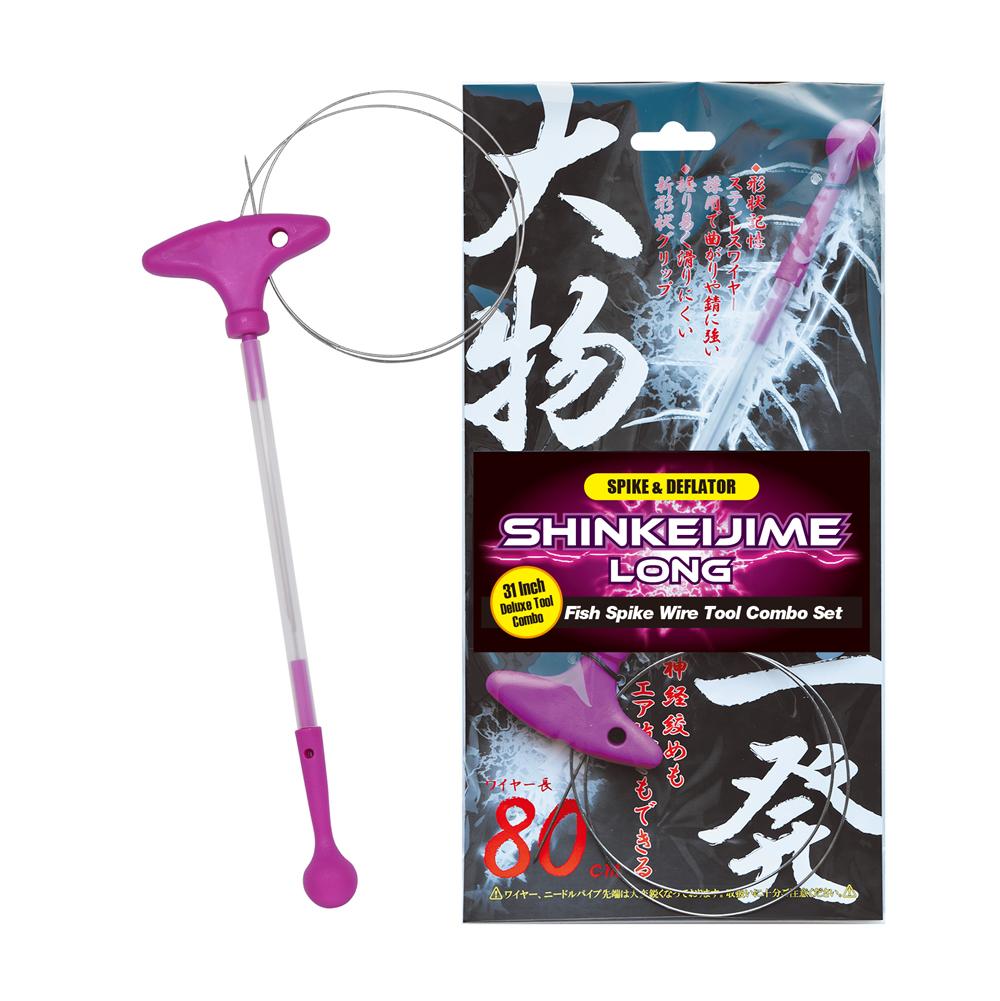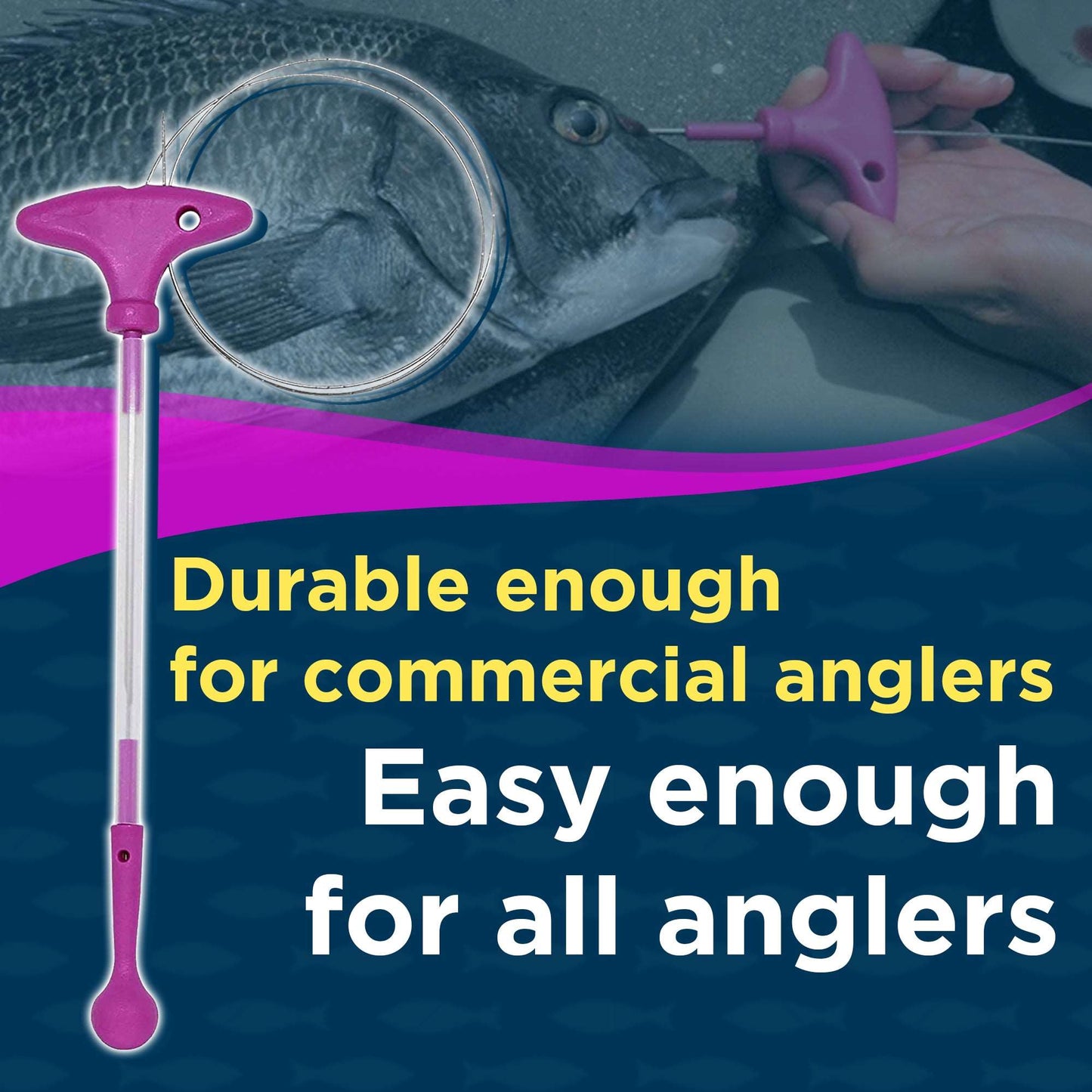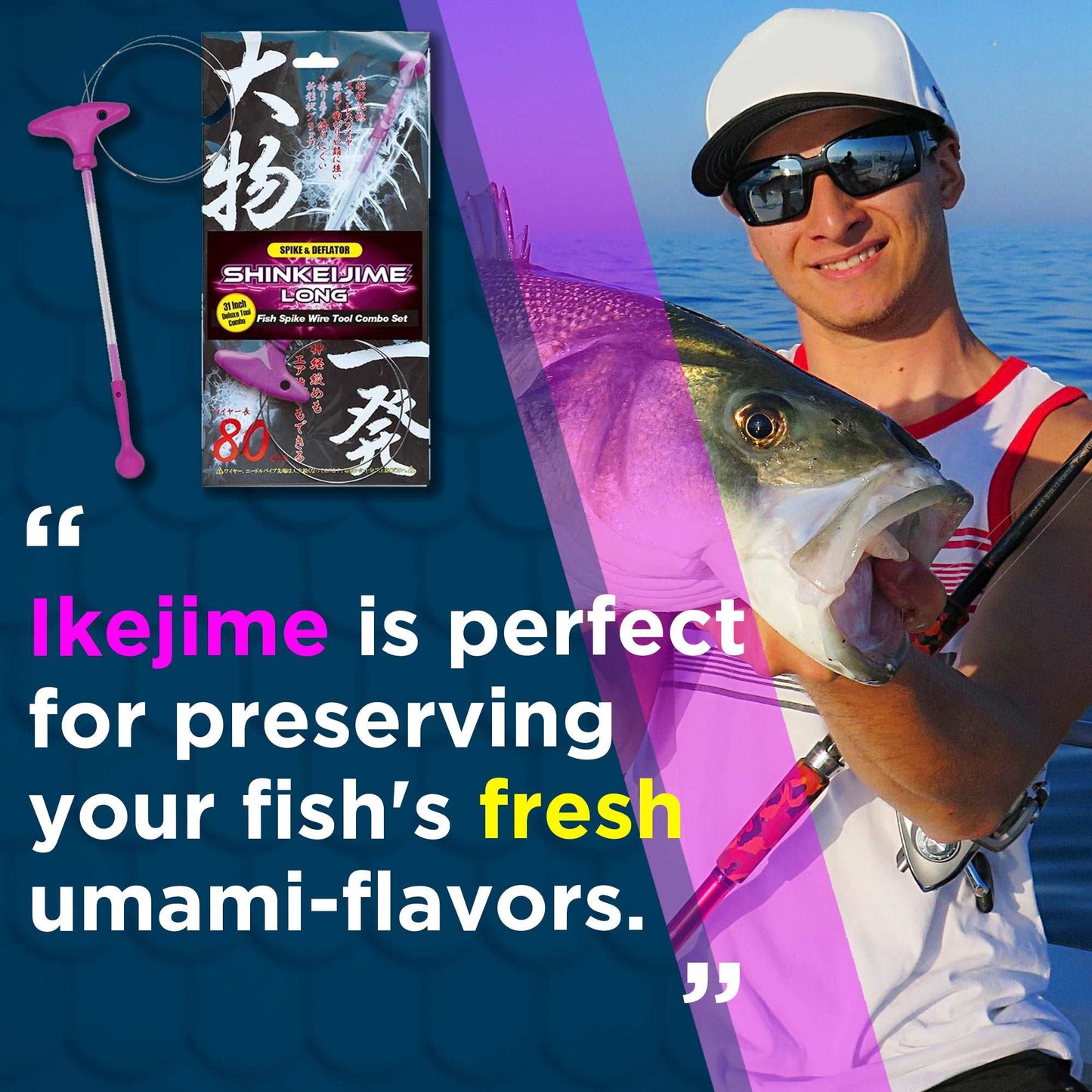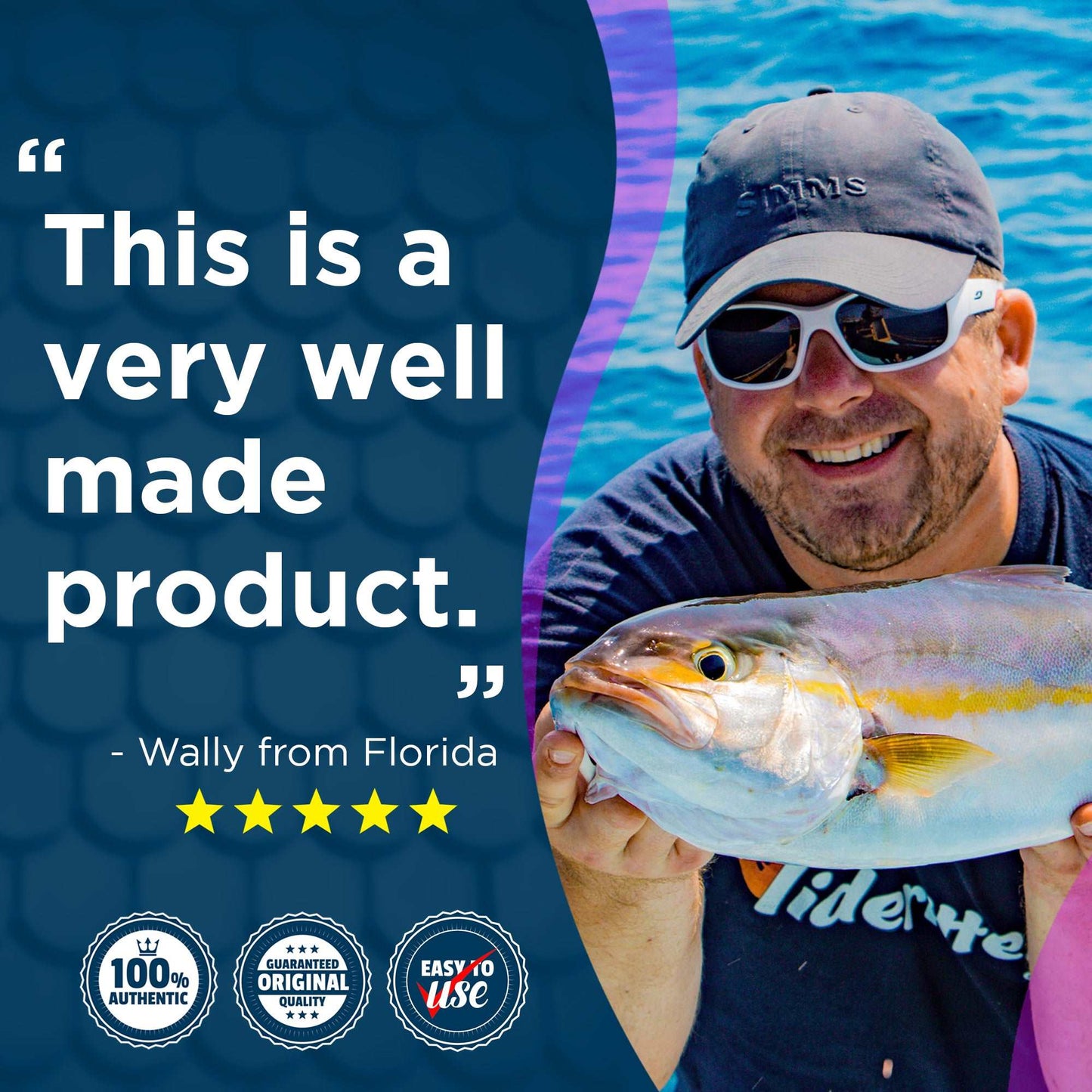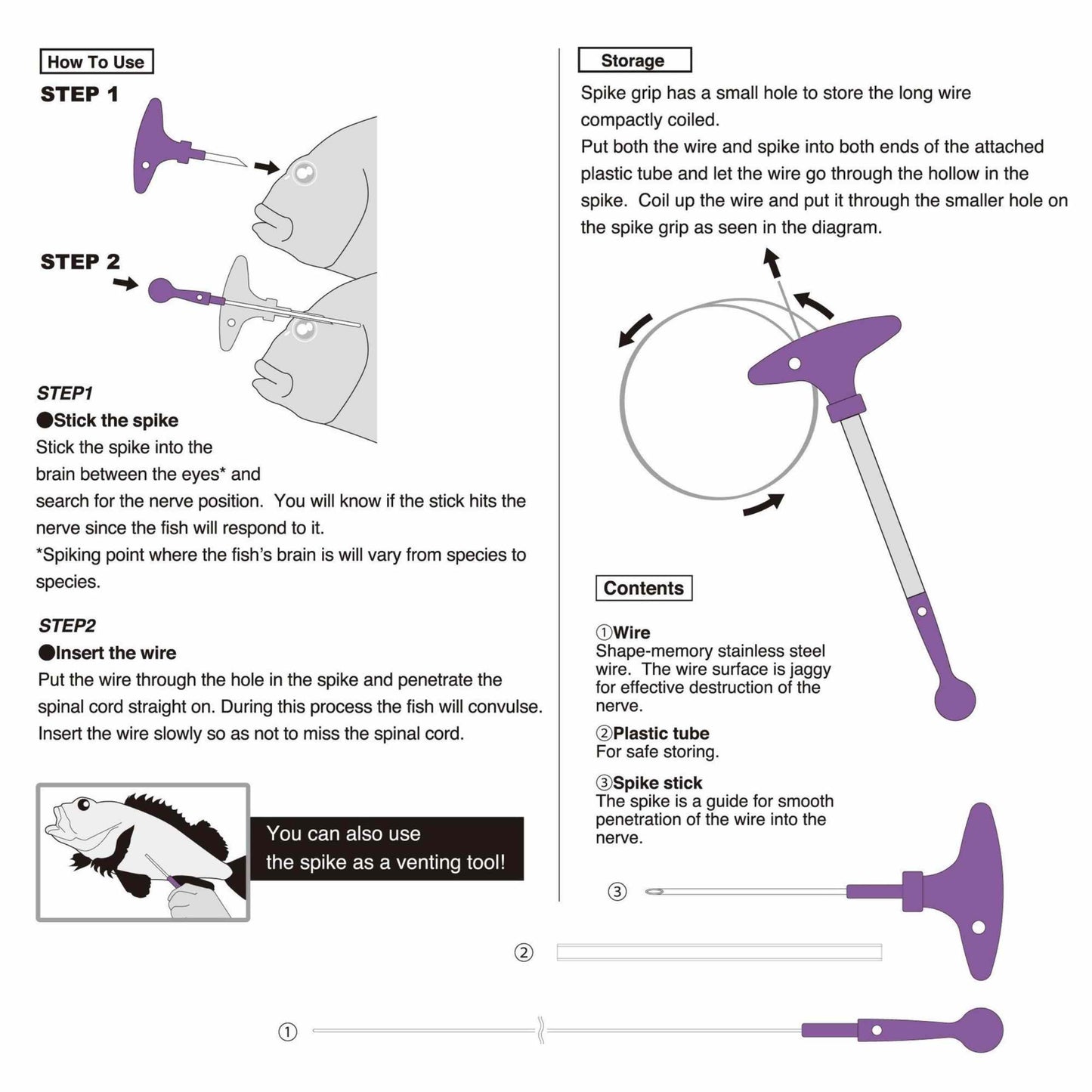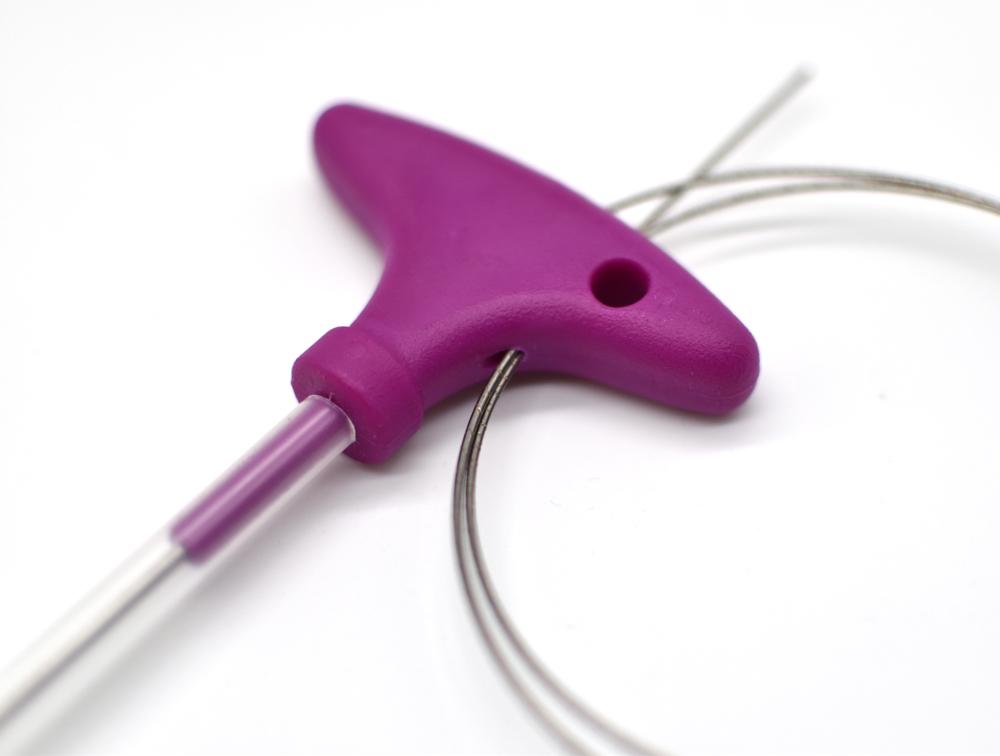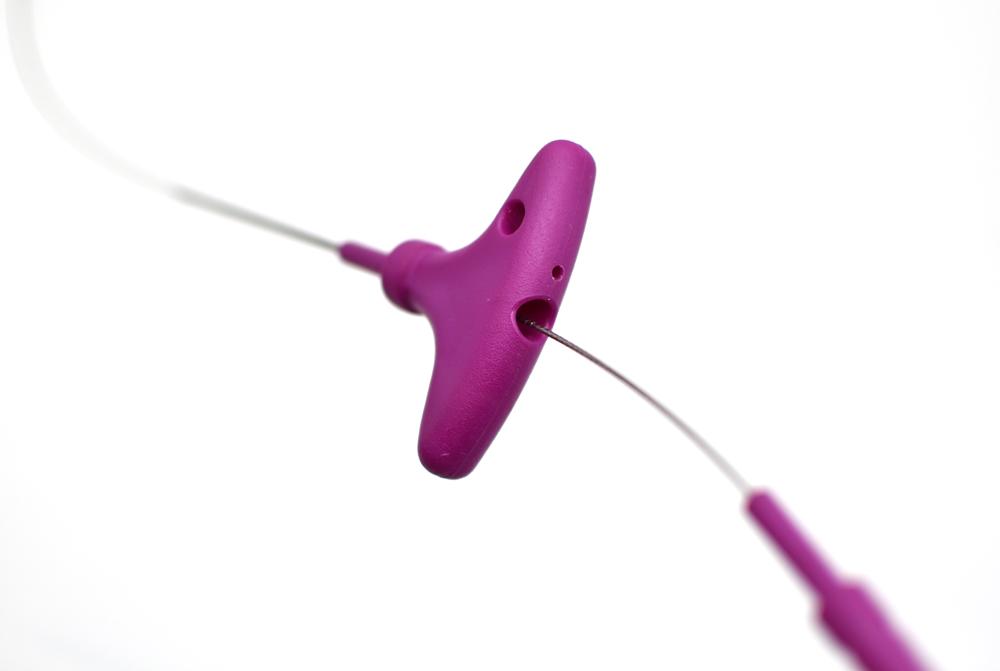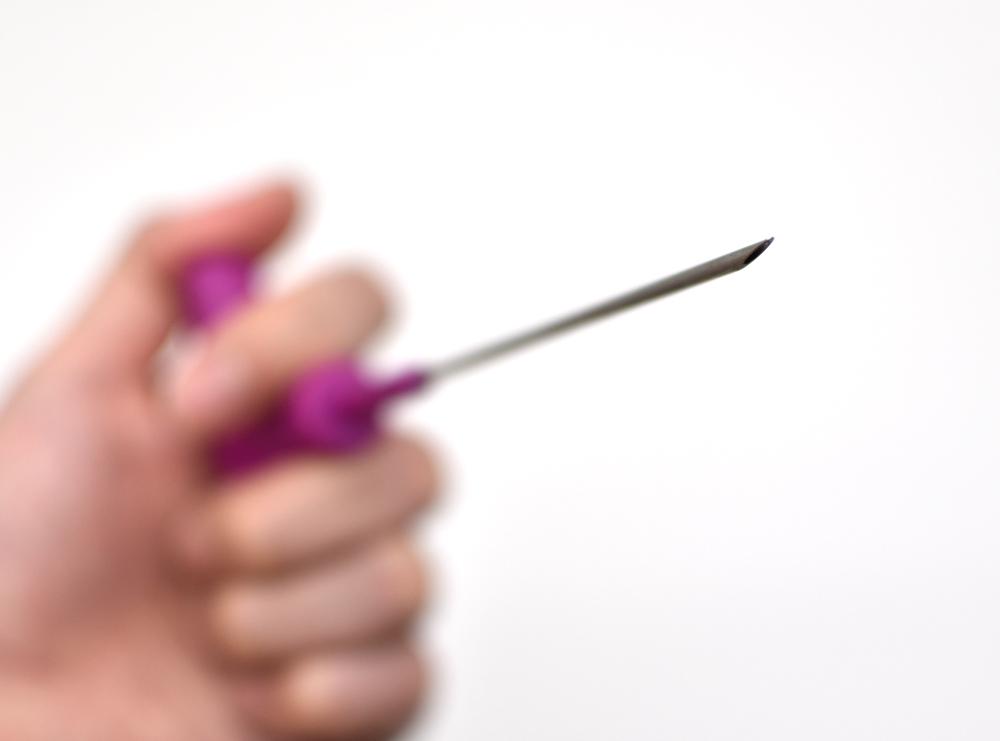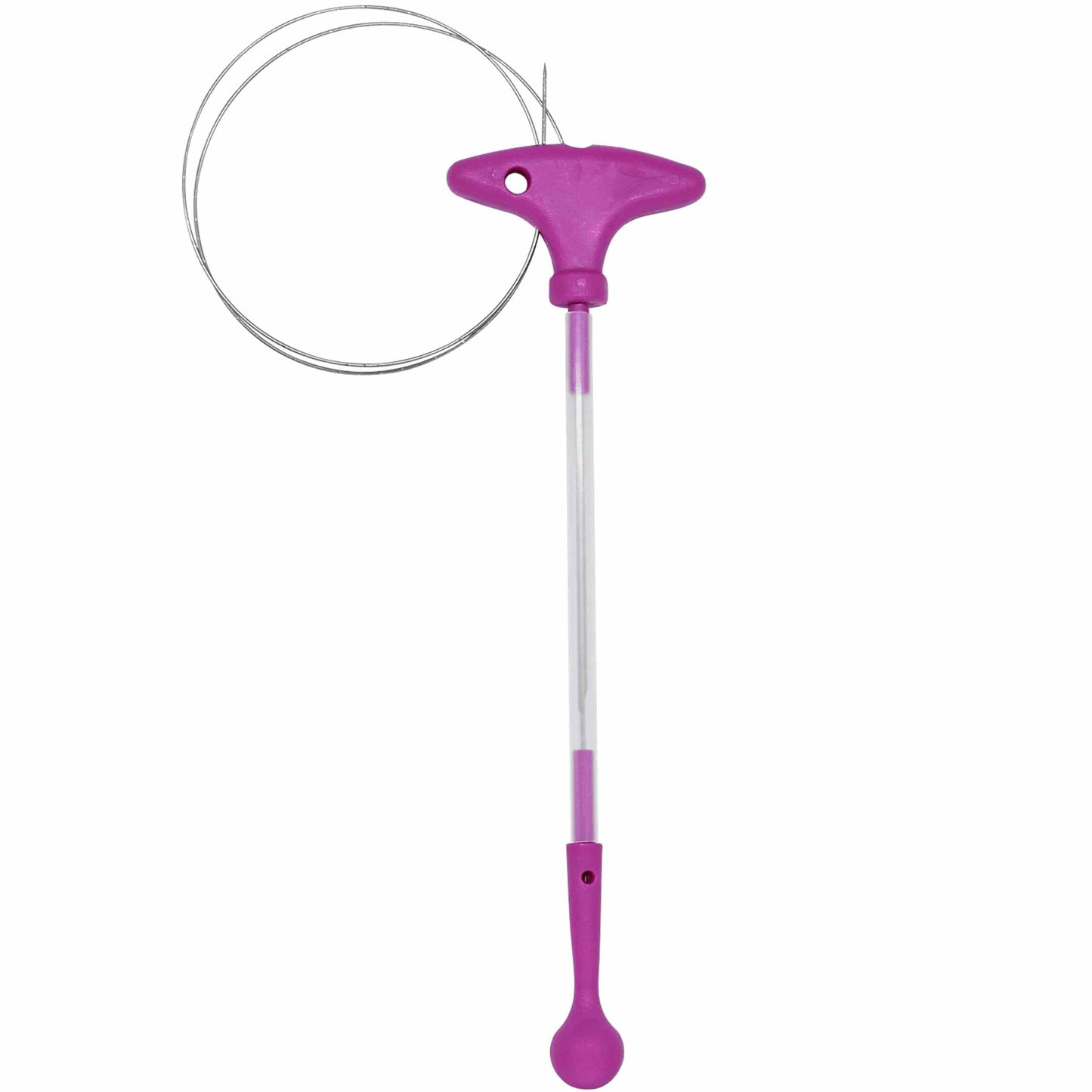 Click To Watch This 20-Second Ikejime Tutorial👇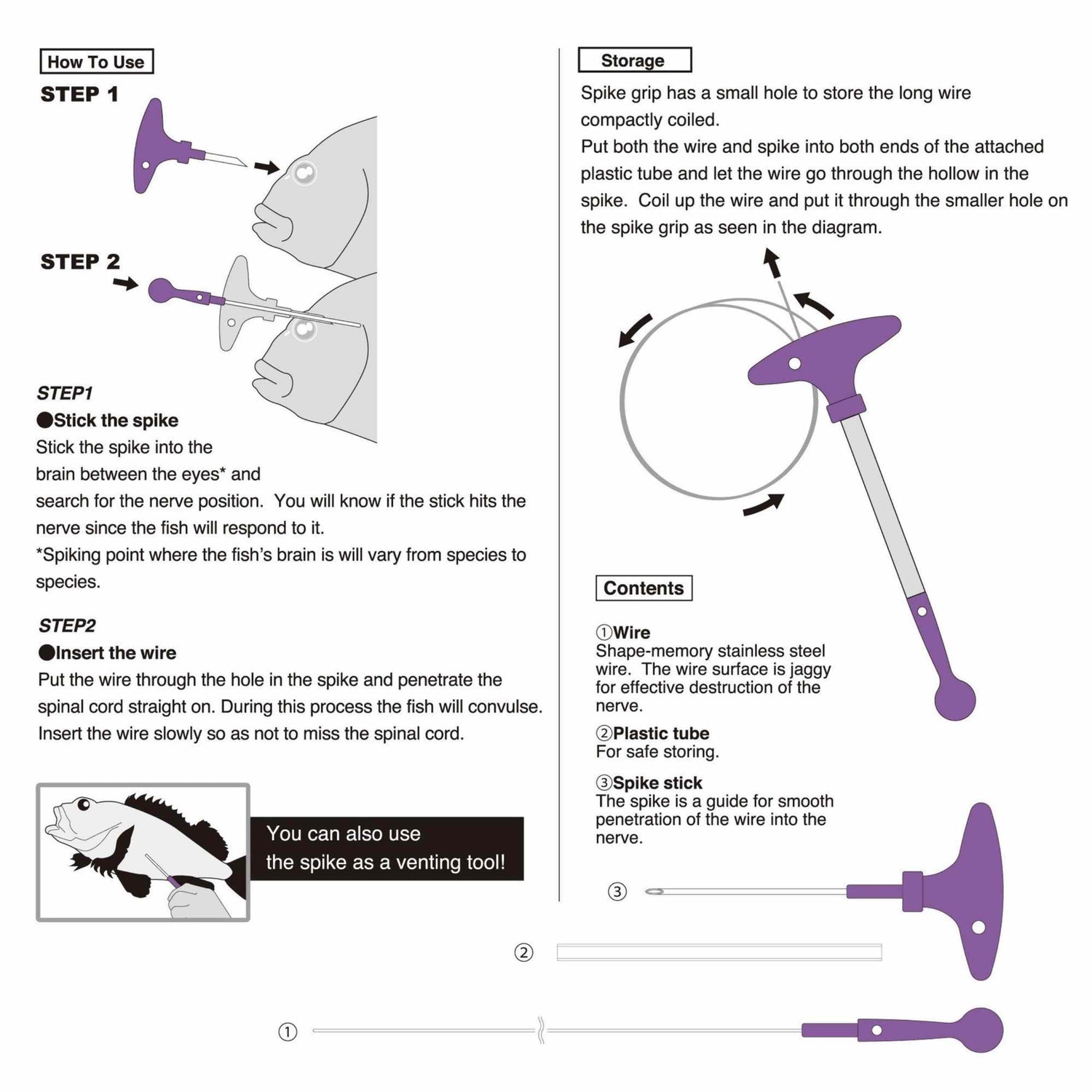 Ikejime Kit: Easy-To-Use Spike and Wire
This Ikejime kit is like no other.
Our Ikejime is built for both professional and recreational fishermen. It has been tested in the harshest conditions by those who risk their lives to bring the freshest catches to the pickiest chefs all across the world.
Now, this level of professionalism can be achieved by every angler who wants to share the best-tasting fish with their friends and family.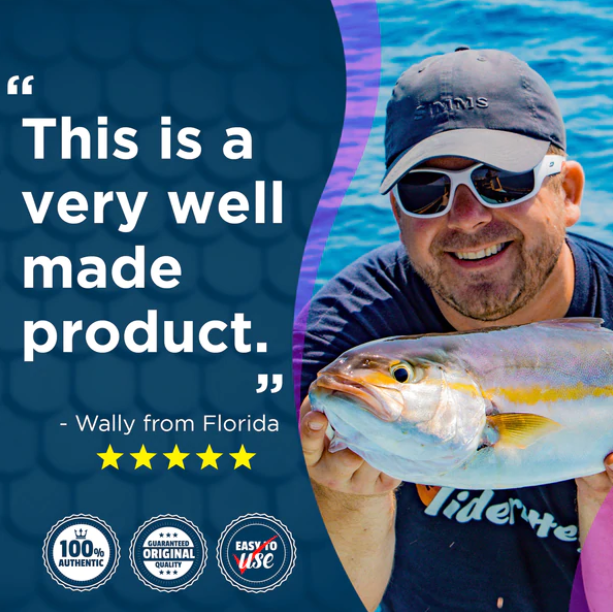 Designed In Japan
Established in 1979 in Fukuoka Japan, Lumica Corp. has been developing cutting-edge fishing products that are extremely popular around the world. Now, the USA is starting to see what cutting-edge gear has been in use by top Japanese anglers for years.
We looked for years to find the best ikejime kit that's used by fishermen all over the world. We're proud to bring this kit to you to improve the quality of fish you bring home.
What Is The Ike Jime Technique?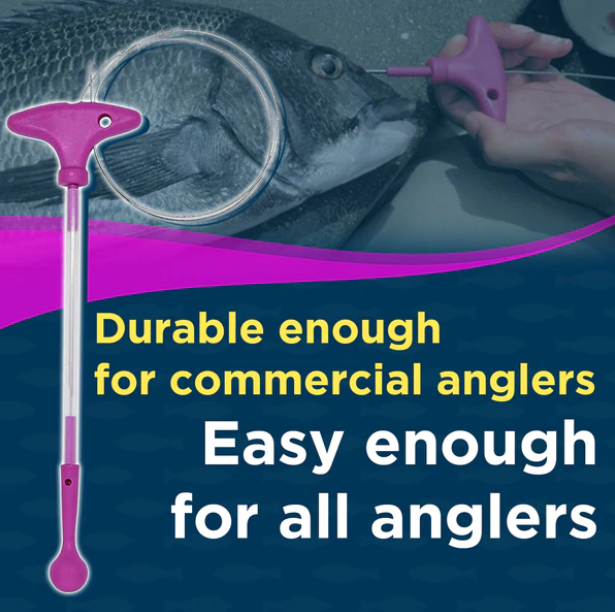 Easy-To-Use
Although this Ikejime Kit is professionally made, it has been designed for ease of use by anyone. With an ergonomic handle, anyone can precisely spike the fish without much force and glide the wire down the spinal column.
This allows the nerves to cease firing to keep the fish and umami flavor intact.
Okay I guess
I'm new to Ikejime and this is my first kit. Used it over the weekend on speckled trout beautifully. Tried to use it on a black drum, and the spike came back out of the handle. Hopefully it will still work or I can find a way to keep the spike from backing out into my palm. Took a little longer than I thought it would for the order to be fulfilled, but it wasn't excessively long and once shipped USPS got it to my home quickly.
High quality, reasonably priced, easy to use
I ordered this kit in order to help with the quality of my catch when fishing. The kit has everything one needs to effectively perform the Ikejime process on a fish. Better yet, the kit is easy to store and use. Excellent value.
As expected
Received the product as advertised. No issues.
Great Ikejime Kit!
This is a very well made kit and would highly recommend. The ergonomics of the handle allows for a solid grip positioning for a quick and easy dispatch of the fish. Instructions are clear and concise and it's compact enough to take out on blue water fishing trips or on shore dives to spearfish! Overall, a great product any anglers or spear fishermen/woman should have to preserve their catch to remain of the highest quality.
Better tasting fish
Great way to handle your catch and improve taste. Only problem is they don't include English instructions, but, you can find them online.