Extra Strength Ikejime For Big Fish
Regular price
Sale price
$59.95 USD
Unit price
per
Sale
Sold out
🚚 2-Day PRIME Shipping*
⭐ Field Tested Fishing Gear
💰 30-Day Money-Back Guarantee
What Actually Makes Fish Taste Great?
Without question, ikejime produces the best-tasting fish with 4 simple steps.
A painless spiking of the fish's brain

Cutting the gills to bleed the fish

Using a special wire to remove the fish's nerves

Cooling the fish down using an ice slurry
Finally, YOU can do the same method used on the most expensive sushi-grade tunas on the fish you catch.

In fact, we had one customer try it for the first time on his 80-pound bluefin tuna.
He said it was "excellent and easy to use."
On his first try!
Even if you're not targeting tuna, ikejime works with all fish,
Everything from mackerel caught on the pier,
To reef fish speared while diving,
To monster groupers caught down in Baja,
If you plan to eat it, ikejime will make it taste better.
Plump, Juicy Fact #1: It's one thing to catch a fish
It's another thing to prepare it so that it actually tastes good.
Because you've prepared your fish one way doesn't mean it's the right way.
But it's not your fault!
Most of us haven't heard of ikejime until it started becoming popular in the culinary circles. In fact, it's still not talked about in fishing circles that often (although that's changing).
Why do chefs demand fish that have been ikejimed?
Respected seafood chefs demand ikejime fish. Those burn holes in their wallet for a great seafood meal can taste the difference.
By using our ikejime kit, you will have the same quality and taste at home with your fish.
Plump, Juicy Fact #2: If you paid to catch fish, then you're already invested in making it taste great.
Why spend money on food if you let it spoil?
Letting the fish suffocate pumps stress hormones through the meat — yuck.

Not bleeding immediately causes blood to saturate the meat. Thus harboring nasty bacteria — double yuck.

Not running a wire down the spine lets the dead fish fire its nerves, breaking down the tissue — triple yuck.

Failing to get the fish in an ice slurry means the fish is only good for cat food — meow.
We developed this Ikejime Kit in Japan — the heart of extreme fishing and eating. We made our spike with an ergonomic handle so it feels good after countless fish because we know you catch a lot. Plus, it's quicker and easier than clubbing the fish to death.
Our high-quality wire removes those pesky favor-sucking nerve cells. Please be delicate and don't force the wire down the spine. Delicate flesh requires the delicate handling of the tool.
You've spent money catching fish, you might as well do it right when it comes to preserving your meat.
Size

DESIGNED FOR LARGE FRESH & SALTWATER FISH

Shape memory stainless steel wire can be compactly stored.


Ideal for yellowtail, halibut, large tuna, large white seabass, flounder, rockfish, ulua, wahoo, mahi mahi, and large freshwater fish.


Wire diameters and lengths: 1.2mm x 1000mm and 1.5mm x 1300mm
Spike length 180mm
F.A.Q

Thoughts on using this on smaller bluefin? I catch anything from 36"to 72" and seems like it could be too long for those under 45" class Tuna?

Yes, this ikejime kit should work great for those class tuna! There are two shinkeijime wires in this kit so you have options for nearly all sizes of fish you catch. Save some sashimi for us :)

Appears that spike is hollow. Can be used to vent fish before release?

Absolutely! This ikejime kit is used to vent fish that have barotrauma.

What materials are the handle and spike made from?

The ikejime handle is plastic and the spike is a hollow stainless steel tube with sharp end.
What Is The Ike Jime Technique?

Ikejime is the process of humanely killing a fish in the quickest amount of time while preserving the highest quality of the meat.
Share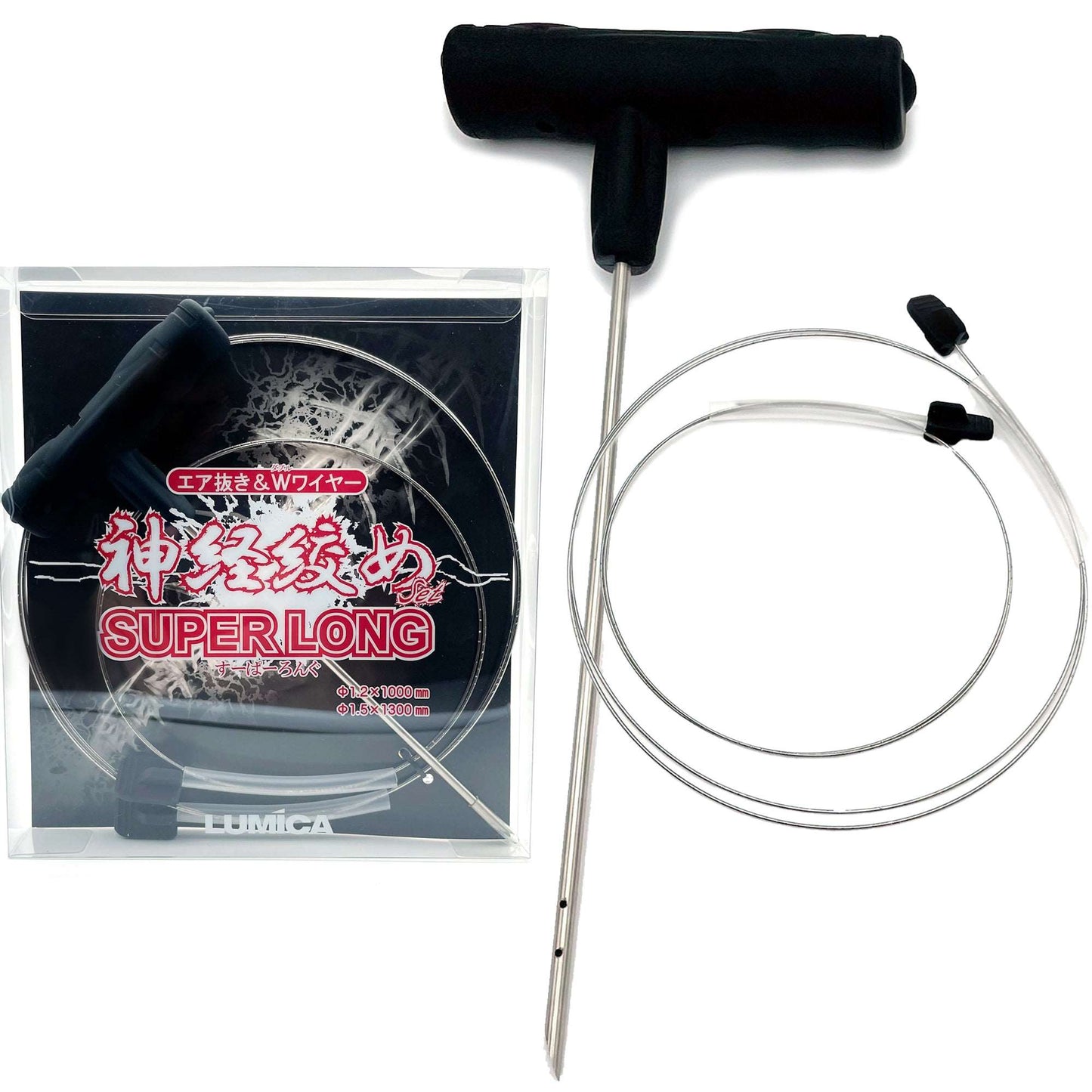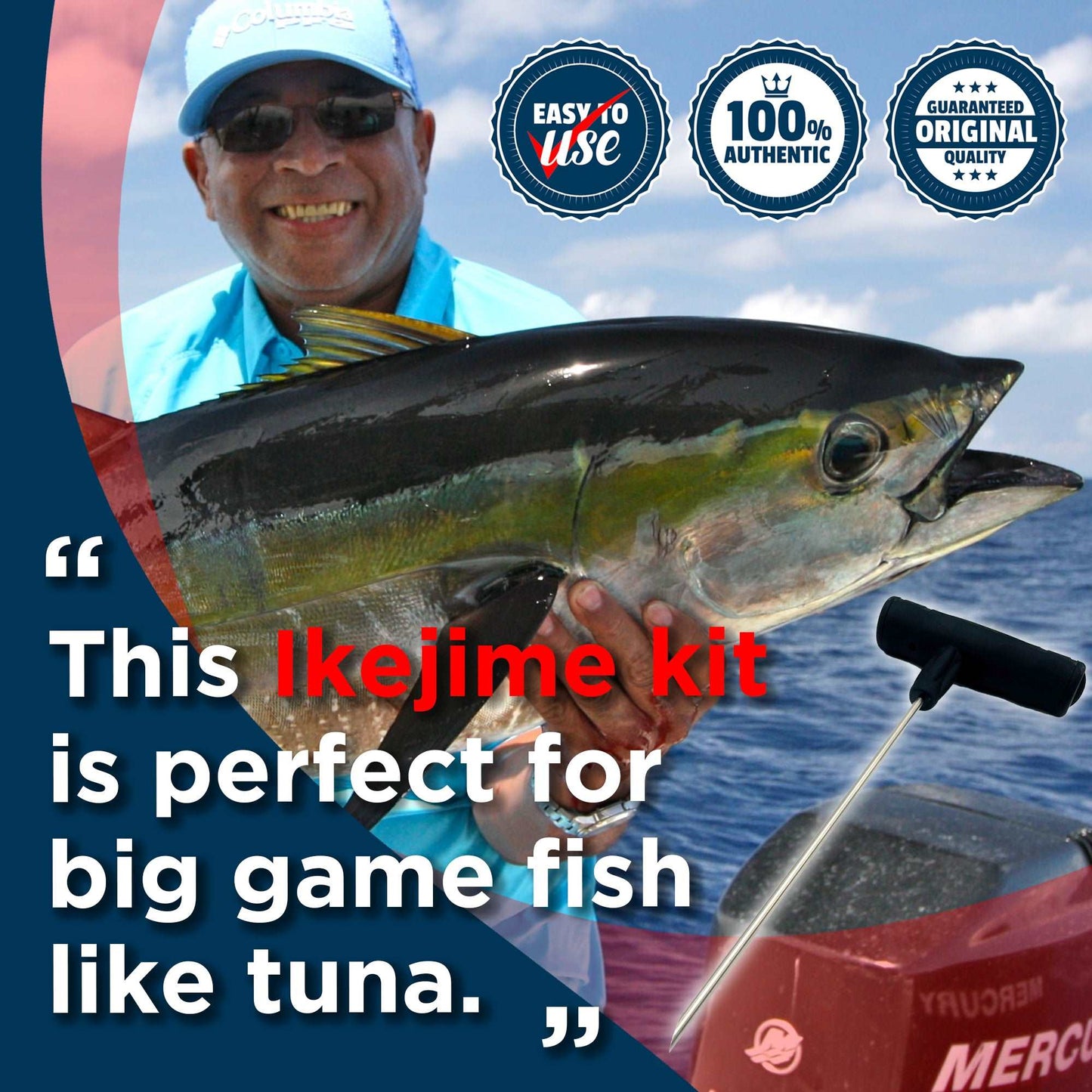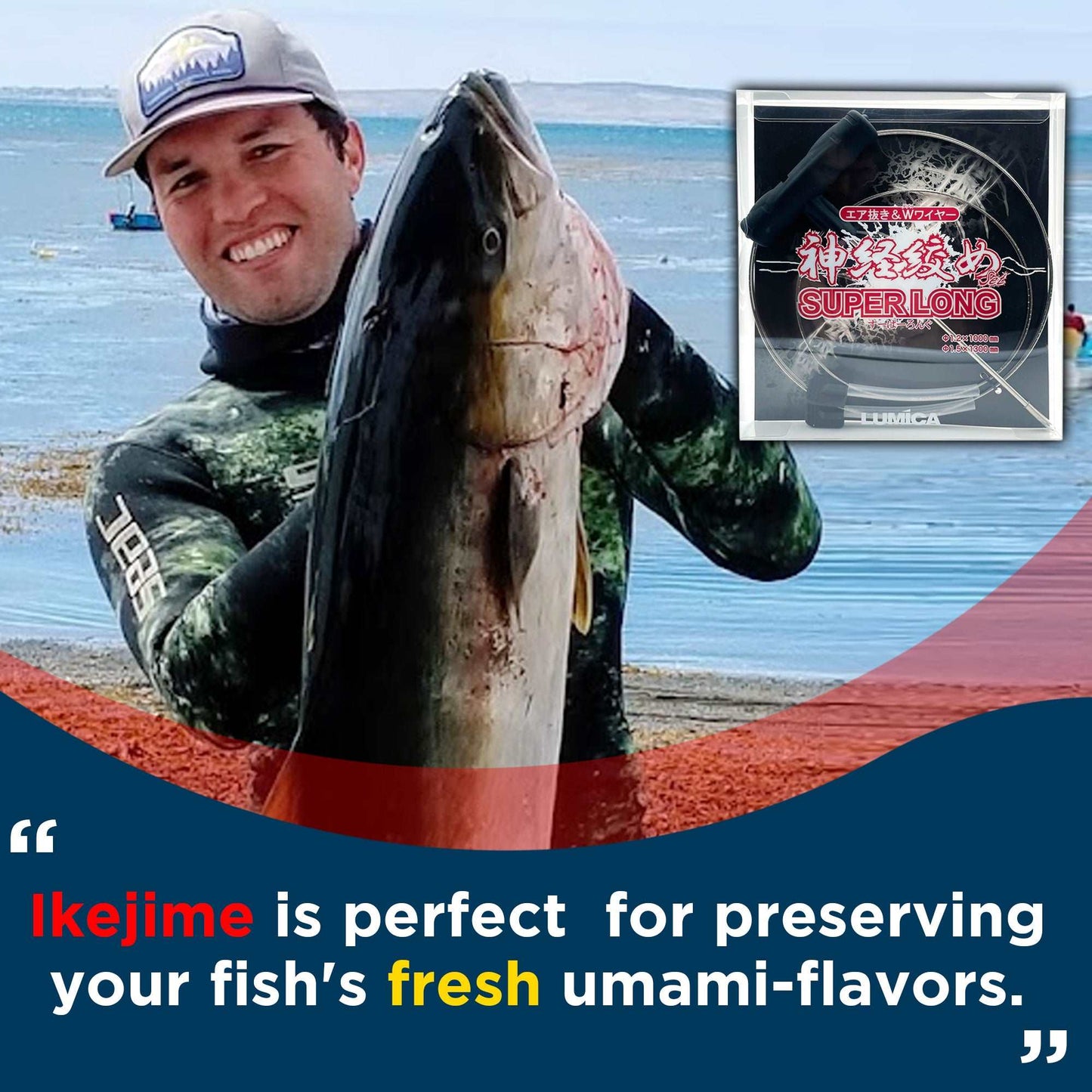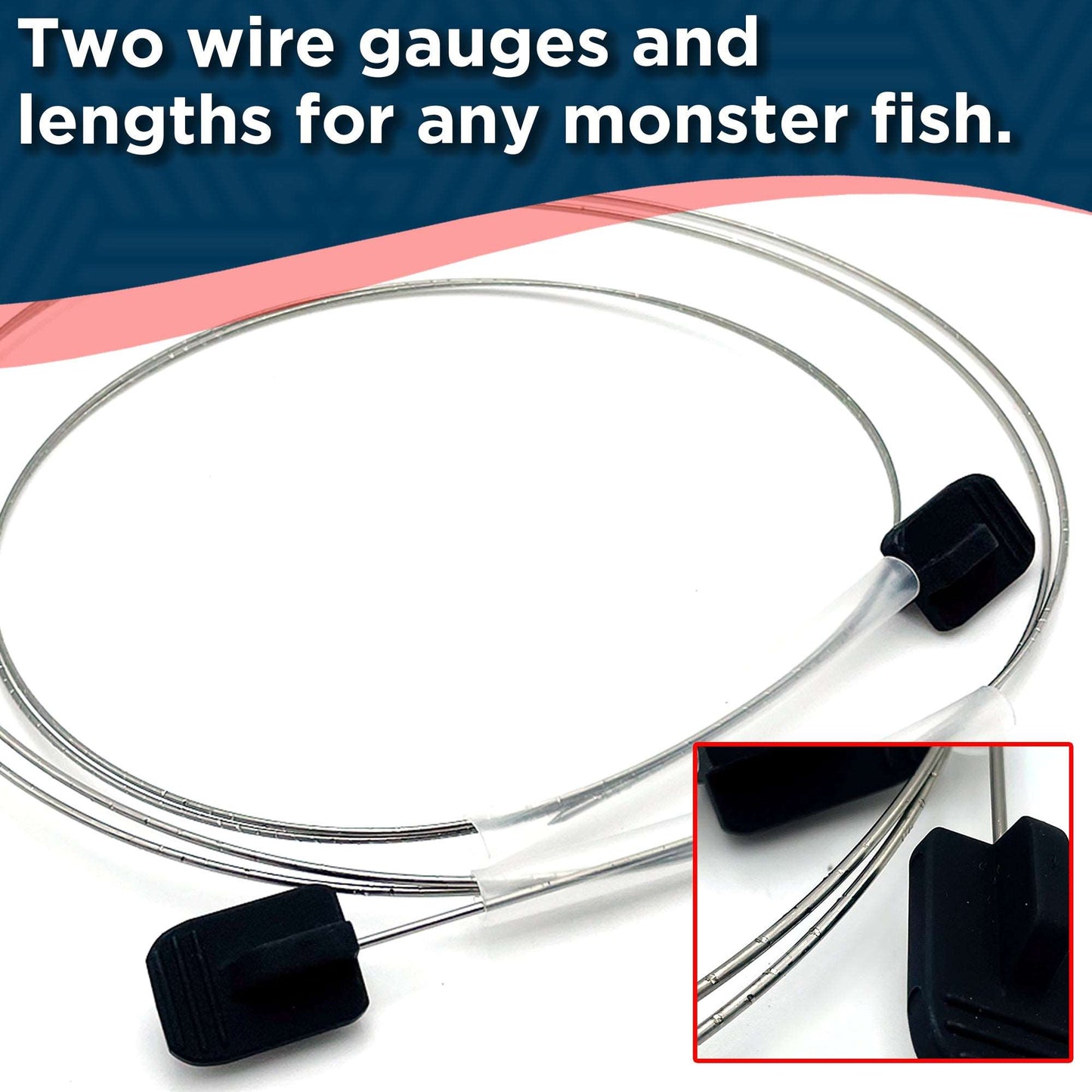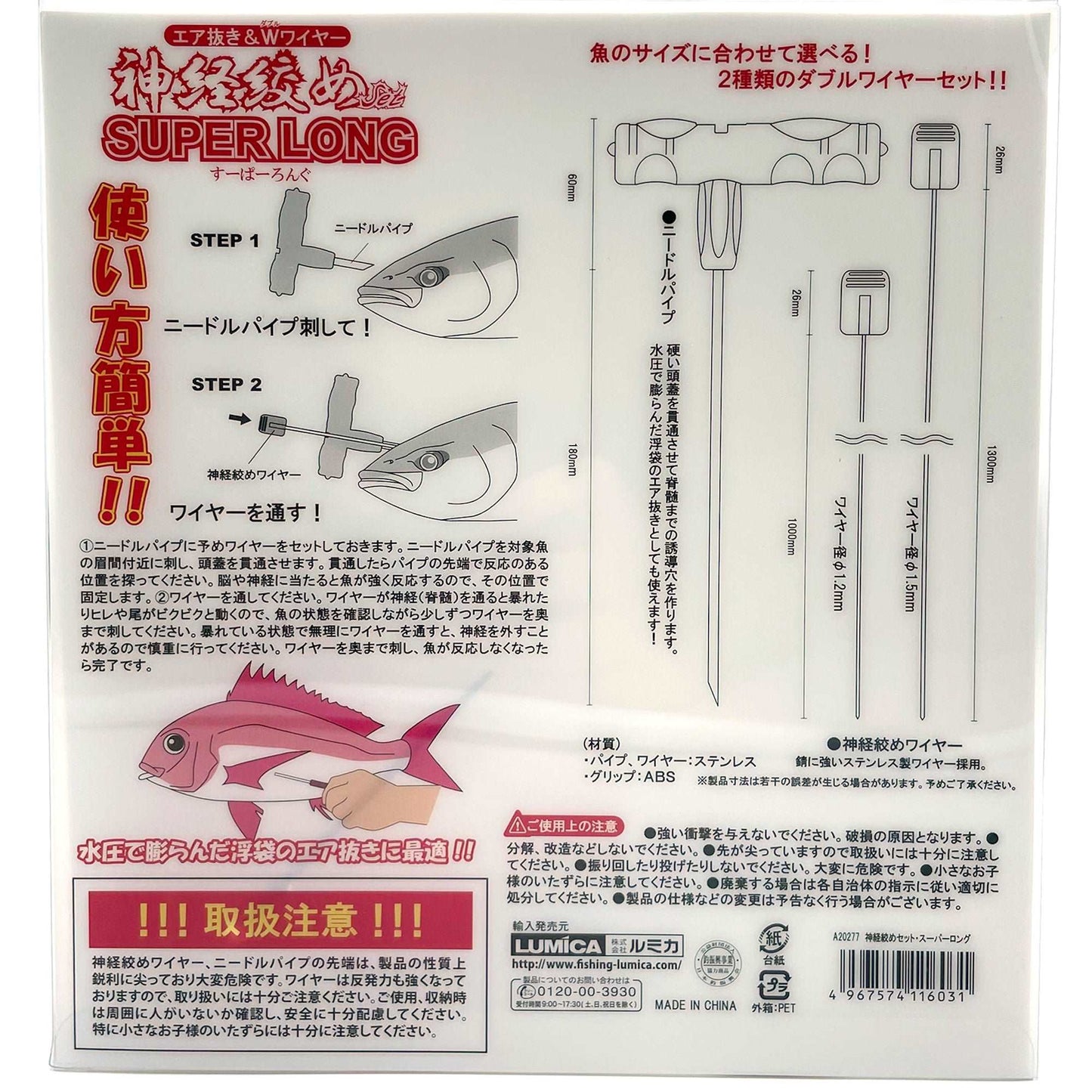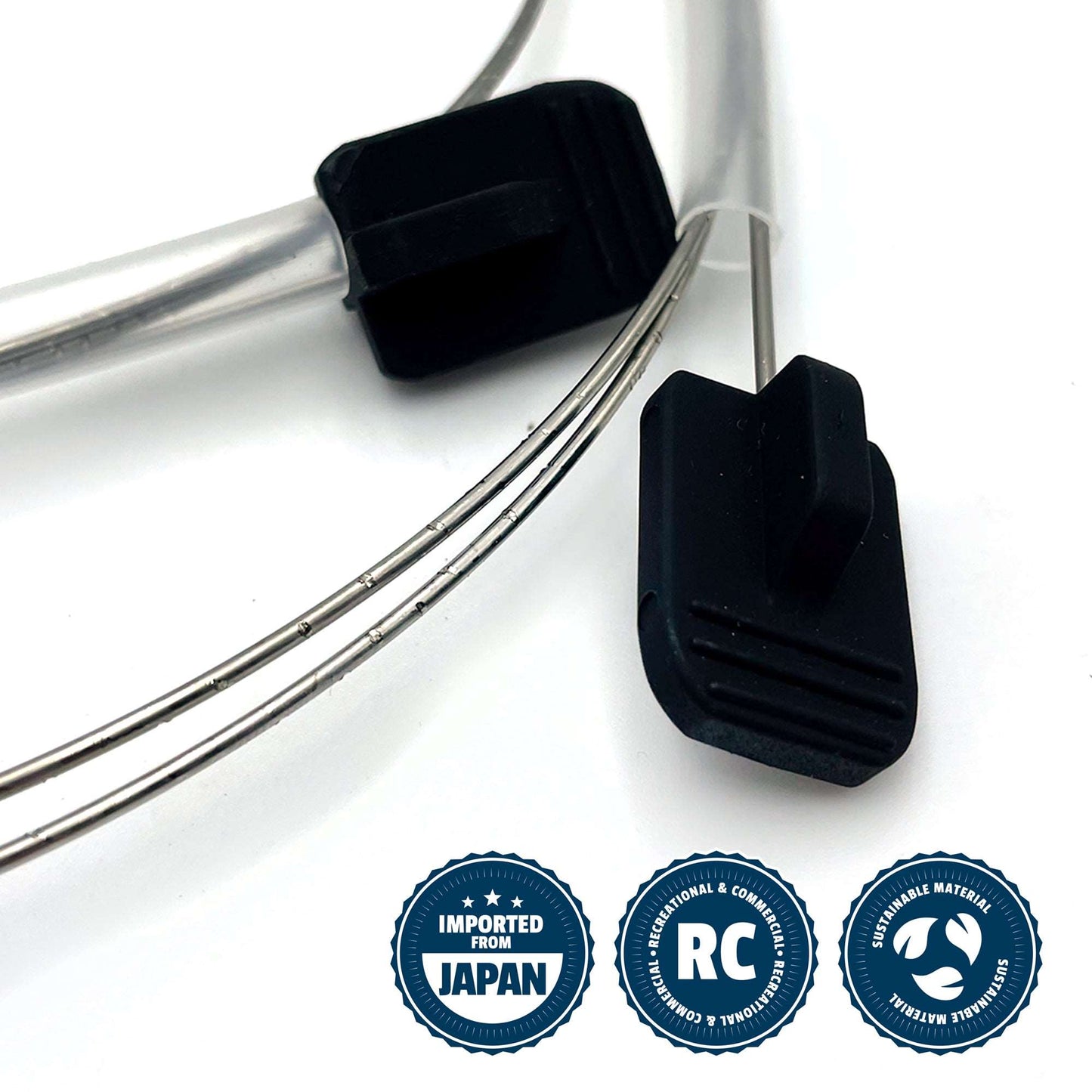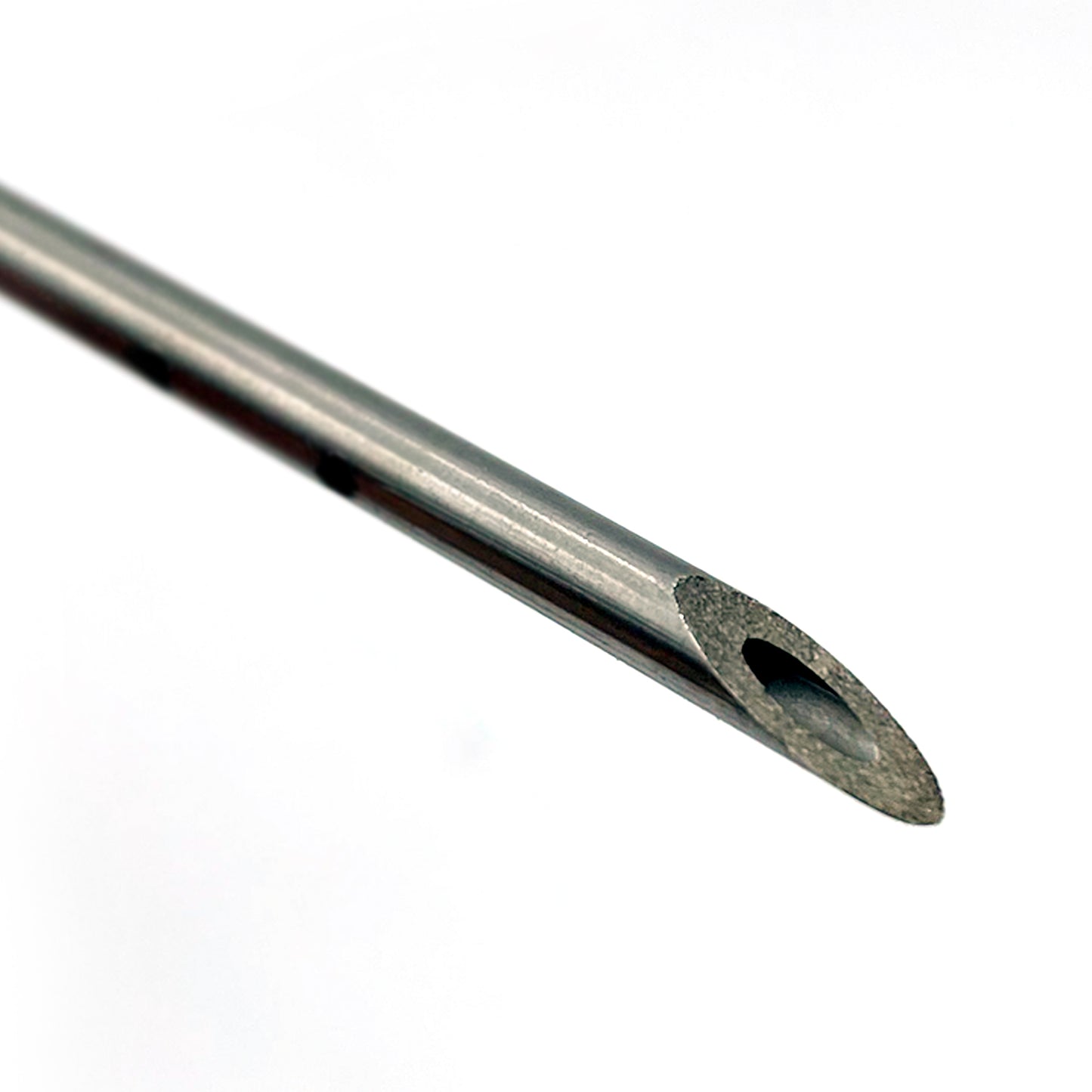 What Is The Ike Jime Technique?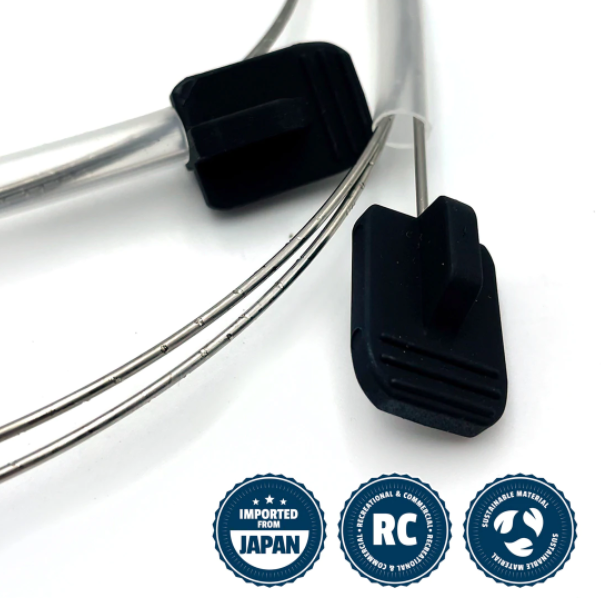 Pelagic Ikejime Kit: Easy-To-Use Spike and Wire
🐟 PERFECT FOR LARGE FISH: This Ikejime Kit works for large fish species including, but not limited to King Mackerel, Tuna, White Sea Bass, Mahi Mahi, Amberjack, Crevalle Jack, Red Drum, Yellowtail and more.
🐟 MOST HUMANE METHOD: Not all methods for dispatching a fish are ethical. Rest assured that the Ikejime method will allow for the least amount of suffering for the fish and the highest quality of meat for consumption. What better way to enjoy the fish that you've caught than by preserving the fish in its natural state.
🐟 AUTHENTIC IKEJIME KIT: Designed in Fukuoka Japan by Lumica Corp who has over 42 years of experience building high-quality fishing products. This Ikejime Kit has been field-tested with commercial anglers to durability while being designed for the recreational angler for ease of use.
🐟 HIGHEST QUALITY MEAT PRESERVATION: Ikejime is a technique that dates back over 2300 years. It is the most humane way to kill a fish and by removing the ATP production in the spine after death, the umami flavor and fish texture remain the highest quality.
🐟 WHAT'S IN THE KIT: The kit has been designed and tested for ergonomic efficiency. From the material selection to the grip positioning, this Ikejime kit is easy to use. The spike has a large handle which allows for a powerful thrust into the fish. The wire is sturdy enough to reach all the way to the end of the fish without kinking. We've even developed an easy way to store the wire when not in use.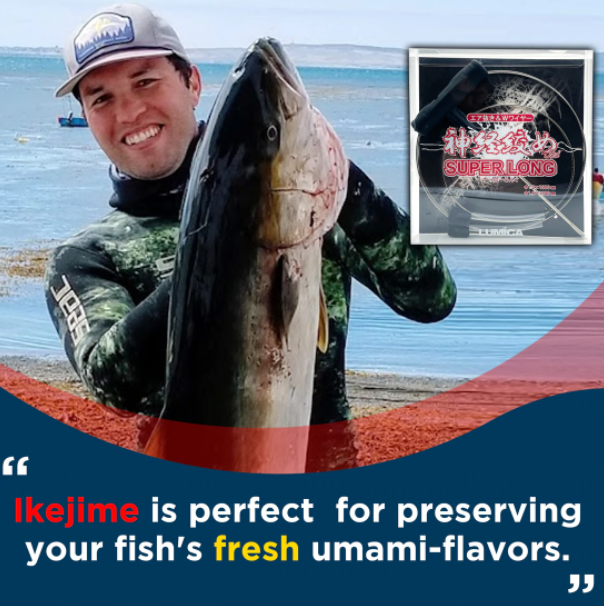 Designed In Japan
Established in 1979 in Fukuoka Japan, Lumica Corp. has been developing cutting-edge fishing products that are extremely popular around the world. Now, the USA is starting to see what cutting-edge gear has been in use by top Japanese anglers for years.
We looked for years to find the best big fish ikejime kit that's used by fishermen all over the world. We're proud to bring this kit to you to improve the quality of fish you bring home.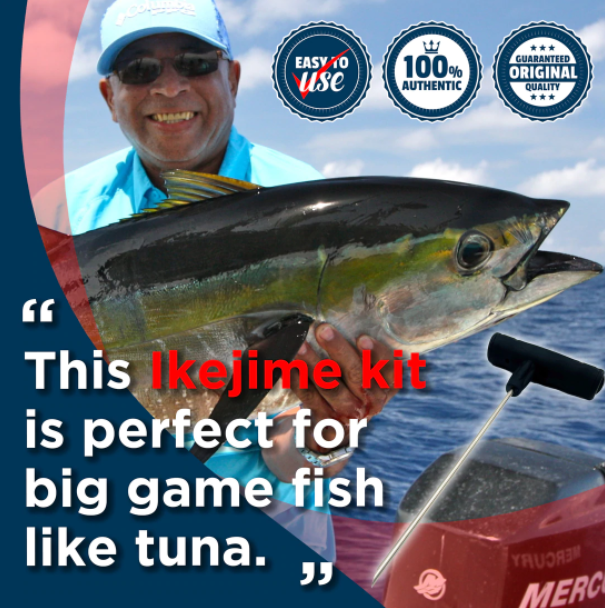 Easy-To-Use
Although; this Big Game Ikejime Kit is professionally made, it has been designed for ease of use by anyone. With an ergonomic handle, anyone can precisely spike the fish without much force and glide the wire down the spinal column.
This allows the nerves to cease firing to keep the fish and umami flavor intact.
Perfect tool
This is just what I need to take good care of my catch . 👍
Prime sushi quality fish
Excellent and easy to use. First use was good practice on an eighty lb bluefin tuna. Always brain spiked tuna before. But first time running wire through spine.
Looks like a great kit
Because its winter in the North East we have not used it yet. It looks easy to use and durable. Time will tell.
Quality product!
I just got my ikejime kit and I must say that I was pleasantly surprised at the quality of the components and materials. I haven't used it yet, but I'm really looking forward to using it on my next fishing trip!
Very well made tool and works great for the bigger fish
Used this on a few of my bigger fish caught last week. Worked great! Highly recommend!